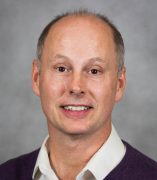 Michael Ragozzino, PhD
Professor
Brain and Cognitive Sciences
Contact
Building & Room:
BSB 2010
Address:
1007 W Harrison Street
Office Phone:
Email:
About
Statement of Research Interests:
My research program involves taking a neural systems approach to understanding the neurobiology of learning and memory. My interest focuses on investigating the principles and neural mechanisms that govern the ability to learn new rules and inhibit old rules under changing environmental conditions. The ability to adopt new strategies and inhibit old strategies involves a powerful form of plasticity for adapting to a changing environment and reflects intricate learning,memory and attentional systems. I have three main research programs that focus on understanding the neurobiology of learning and memory.

Neural Basis of Behavioral Flexibility in Frontal Cortex-Basal Ganglia Circuitry. One main focus of current experiments is investigating the role of the prefrontal cortex and interconnected brain regions, i.e. striatum and thalamus, in shifting strategies or learning sets. These experiments employ behavioral testing in conjunction with pharmacology and neurochemical techniques, i.e. glutamate biosensors, in understanding the dynamic neurochemical changes that occur during different forms of learning. Most recently, experiments also include functional brain imaging techniques in human subjects to understand the neural systems that support different forms of behavioral flexibility.
A defining feature of autism is restricted interests and repetitive behaviors that can be debilitating to daily living and stressful to family members. Current experiments are employing the BTBR and SHANK3 mouse models of autism to understand the neural circuitry and neurochemistry that underlies repetitive behaviors and behavioral inflexibility in autism. In addition, several studies focus on testing novel treatments that target the serotonergic or cholinergic systems to alleviate behavioral flexibility deficits. In parallel, we conduct neuropsychological studies in autistic subjects to better understand the cognitive processes that lead to cognitive inflexibility.
Selected Publications
Dunn JT, Mroczek J, Patel HR, Ragozzino ME. Tandospirone, a partial 5-HT1A receptor agonist, administered systemically or into anterior cingulate attenuates repetitive behaviors in Shank3B mice. Int J Neuropsychopharmacol. 2020 Jul 3. https://pubmed.ncbi.nlm.nih.gov/32619232/
Lacivita E, Niso M, Stama ML, Arzuaga A, Altamura C, Costa L, Desaphy JF, Ragozzino ME, Ciranna L, Leopoldo M. Privileged scaffold-based design to identify a novel drug-like 5-HT7 receptor-preferring agonist to target Fragile X syndrome. Eur J Med Chem. 2020 Aug 1;199:112395. https://pubmed.ncbi.nlm.nih.gov/32442850/
Schmitt LM, Bojanek E, White SP, Ragozzino ME, Cook EH, Sweeney JA, Mosconi MW. Familiality of behavioral flexibility and response inhibition deficits in autism spectrum disorder (ASD). Mol Autism. 2019 Dec 12;10:47. https://pubmed.ncbi.nlm.nih.gov/31857874/
Ilievski V, Zuchowska PK, Green SJ, Toth PT, Ragozzino ME, Le K, Aljewari HW, O'Brien-Simpson NM, Reynolds EC, Watanabe K. Chronic oral application of a periodontal pathogen results in brain inflammation, neurodegeneration and amyloid beta production in wild type mice. PLoS One. 2018 Oct 3;13(10):e0204941. https://pubmed.ncbi.nlm.nih.gov/30281647/
Grospe GM, Baker PM, Ragozzino ME. Cognitive Flexibility Deficits Following 6-OHDA Lesions of the Rat Dorsomedial Striatum. Neuroscience. 2018 Mar 15;374:80-90. https://pubmed.ncbi.nlm.nih.gov/29374536/
Amodeo DA, Cuevas L, Dunn JT, Sweeney JA, Ragozzino ME. The adenosine A2A receptor agonist, CGS 21680, attenuates a probabilistic reversal learning deficit and elevated grooming behavior in BTBR mice. Autism Res. 2018 Feb;11(2):223-233. https://pubmed.ncbi.nlm.nih.gov/29193861/
Amodeo DA, Rivera E, Cook EH Jr, Sweeney JA, Ragozzino ME. 5HT2A receptor blockade in dorsomedial striatum reduces repetitive behaviors in BTBR mice. Genes Brain Behav. 2017 Mar;16(3):342-351. https://pubmed.ncbi.nlm.nih.gov/27717169/
D'Cruz AM, Mosconi MW, Ragozzino ME, Cook EH, Sweeney JA. Alterations in the functional neural circuitry supporting flexible choice behavior in autism spectrum disorders. Transl Psychiatry. 2016 Oct 11;6(10):e916. https://pubmed.ncbi.nlm.nih.gov/27727243/
Education
PhD., University of Virginia
BA, University of Cincinnati