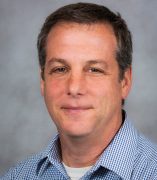 Mitchell Roitman, PhD
Brain and Cognitive Sciences
Director, Laboratory for Integrative Neuroscience
Brain and Cognitive Sciences
Contact
Building & Room:
1042B BSB
Address:
1007 W Harrison street
Office Phone:
Email:
Related Sites:
I am reviewing applications for fall 2024 Admissions Heading link
Dr. Roitman will be reviewing applications for doctoral students to begin Fall 2024.
About
My lab is interested in determining the neural basis of adaptive (feeding and drinking) and maladaptive (over-eating, drug-taking) motivated behaviors. We are particularly interested in the role of the mesolimbic dopamine system. The nucleus accumbens and the neurotransmitter dopamine are critical brain substrates involved in motivated behavior including feeding and drug-taking. They appear to be vital to reward-related learning as well. Since the nucleus accumbens accesses motor-related structures it is well suited to modulate behavior based on changes in motivational state and learned associations. Our research seeks to determine how this system integrates information about valence (reward vs. aversion) with peripheral and central signals that convey information about physiological state (e.g. hunger, thirst, satiety, drug-withdrawal). We also seek to determine whether modulation of these signals can resolve aberrant processing that underlie maladaptive behavioral responses. To accomplish this, we employ state-of-the-art recording techniques and virally-delivered construct for circuit manipulations with detailed behavioral analyses. Our program of research will shed considerable light on human disorders of motivation such as obesity and drug-addiction.
Selected Publications
Konanur, V.R., Hsu, T.M., Kanoski, S.E., Hayes, M.R. & Roitman, M.F. (2020) Phasic dopamine responses to a food-predictive cue are suppressed by the glucagon-like 1 receptor agonist Exendin-4. Physiology and Behavior. 215:112771. doi: 10.1016/j.physbeh.2019.112771.
Hsu, T., McCutcheon, J.E. & Roitman, M.F. (2018) Parallels and overlap: the integration of homeostatic signals by mesolimbic dopamine neurons. Frontiers in Psychiatry. 9:410. doi: 10.3389/fpsyt.2018.00410.
Fortin, S.M. & Roitman, M.F. (2018) Challenges to body fluid homeostasis differentially recruit phasic dopamine signaling in a taste-selective manner. Journal of Neuroscience. 38:6841-6853.
Cone, J.J., Fortin, S.M., McHenry, J.A., Stuber, G.D., McCutcheon, J.E. & Roitman, M.F. (2016) Physiological state gates acquisition and expression of mesolimbic reward prediction signals. Proceedings of the National Academy of Sciences, 113:1943-8.
Covey, DP, Roitman, MF & Garris, PA. (2014) Illicit dopamine transients: reconciling actions of abused drugs. Trends in Neurosciences, 37: 200-210.
Daberkow DP, Brown HD, Bunner KD, Kraniotis SA, Doellman MA, Ragozzino ME, Garris PA & Roitman MF. (2013) Amphetamine paradoxically augments exocytotic dopamine release and phasic dopamine signals. The Journal of Neuroscience, 33: 452-463.
Brown, H, McCutcheon JE, Cone JJ, Ragozzino, ME & Roitman, MF. (2011) Primary food reward and reward predictive stimuli evoke different patterns of dopamine signaling throughout the striatum. European Journal of Neuroscience, 34:1997-2006.
McCutcheon, JE, Ebner, SR, Loriaux, AL & Roitman, MF. (2012) Encoding of aversion by dopamine and the nucleus accumbens. Frontiers in Neuroscience, Vol. 6, Article 137.
Roitman, MF. Wheeler, RA, Wightman, RM & Carelli RM (2008) Real-time chemical responses in the nucleus accumbens differentiate rewarding and aversive stimuli. Nature Neuroscience, 11: 1376-1377. PMID: 18978779
Roitman MF, Wheeler RA & Carelli RM (2005) Nucleus accumbens neurons are innately tuned for rewarding and aversive taste stimuli, encode their predictors and are linked to motor output. Neuron, 45: 587-597.
Roitman MF, Stuber GD, Phillips PEM, Wightman RM & Carelli RM (2004) Dopamine operates as a subsecond modulator of feeding. Journal of Neuroscience, 24: 1265-1271.
Education
PhD, University of Washington, Seattle, WA
BA, Cornell University, Ithaca, NY