Senior Psychology Student, Benjamin Bennett
This month's student spotlight is Senior, Benjamin Bennett. Benjamin is currently the Vice President of the UIC Psi-Chi Honors Society and is excited about pursuing graduate school within the next year!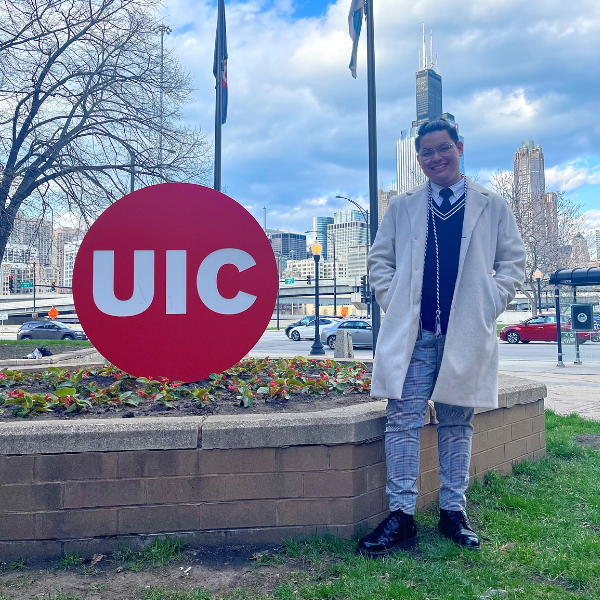 We are so excited we caught up with Ben during the midst of a very busy fall semester! Ben is majoring in Psych with a minor in medical humanities.
[TT] Ben! It's so wonderful of you to spare some time to share your story and experiences for our upcoming Newsletter!
[BB] Thank you so much for inviting me to share my story in the newsletter!
[TT] Well, let's jump right in! Tell us a little about your background?
[BB] I've spent most of my life outside the US, most of my time I lived in the Philippines and Japan. I emigrated to the US about four years ago, after my dad retired from the military. Now, I live in Gurnee, one of the northern suburbs.
[TT] What attracted you to UIC? You previously mentioned you transferred here, right?
[BB] Yes! What attracted me to the UIC is the proximity it has to my home. I live about an hour away by train to Chicago so it's convenient. Also, It was a good option financially, I've been fortunate enough, so I've only had to pay a little amount for tuition and other expenses.
[TT] What was it like making this transition?
[BB] Transitioning into UIC was a little difficult in the beginning. I remember being very nervous in the beginning because our institution is bigger than my old community college in the suburbs. But as time went on, I acclimated and felt more comfortable around campus and Chicago.
[TT] How did you find yourself selecting psychology as your major? What piqued your interest?
[BB] What piqued my interest in psychology is the fact that we never talked about it within my ethnic community growing up. I have always been told that this was not a topic that you talk about because it would look like you're "crazy" or "mental." But as I got older and explored more about psych in college, I changed my views. Now, it's inspired me to pursue this field to make a change within my community and normalize this idea for everyone.
[TT] Do you currently have any particular research you are working on or are interested in working on?
[BB] My current interest is the idea of emotional trauma felt by minority communities, specifically Asian Americans within the US. This has been the guiding force for my degree because I feel like there hasn't been a lot of research done for this minority community and we lack representation within this part of psychological research. Right now, I'm involved with doing research with Dr. Berenz's Chicago Alcohol Trauma Lab and I've learned so much about PTSD and emotional trauma experienced by minority communities in Chicago, and I appreciate everything that I've learned so far.
[TT] That's very admirable! I am so glad you are able to intersect your interests and your background. Let's shift a little bit and talk about your involvement in Psi Chi as the Vice President. How did you get involved and what exactly do you do in your role?
[BB] Not a lot of students are able to have that experience and undergrad because you know they don't know where to look they don't know how to even start the process, and then they do get that professional experience and it sets them up really well for post-Grad. I would say, don't be scared of the 385 class. I know it's like daunting. It's like a six credit course, you have to do, eight hours a week, minimum for your internship. You also have to do this huge lit review for the class and it seems really daunting, but I gained some of the most valuable skills, I could have gained in undergrad from that. I learned professionalism, APA style writing, and that there's more to psychology than what is presented in undergrad. There are a lot of things people feel confused about like, where do I go after I have my undergrad psychology degree? But then you have this internship and you realize that there's so much you can do with it, so  don't be scared. It's a little scary course, but it goes just fine when you're in it.
[TT] Would you mind sharing your research experience?
[BB] My involvement with Psi Chi was kind of an accident, I saw their advertisement for acceptance through the UIC Psychology Department weekly email, next thing I know I was at a membership meeting.
Currently, I am the chapter Vice President for Psi Chi here at UIC. My job is a little bit of everything, I support other board members when they need help, so I have involvement in almost every position. Most of the time I do work behind the scenes and logistics to make sure everything runs smoothly with meetings, events, and anything else that the board plans. I am also the liaison for the Center for Student Involvement of my organization, so I also assist with setting up larger events with the University and my organization.
[TT] What has been your most rewarding experience as a student in the psychology department?
[BB] I think being a better person has been the most rewarding experience for me as a student in the psychology program. I've taken classes within our department that have made me think about how I act or treat others and have given me a chance to do a lot of self-reflection. One class that I want to recognize is PSCH 411: Psychology of Racism by Dr. Josefina Bañales. This class has been an eye-opening experience for me, especially regarding my prejudice against people. Overall, psychology has allowed me to become a more whole person.
[TT] What advice would you give current undergraduates, especially transfer students seeking to get involved?
[BB] I have so many, but one piece of advice that I wished that I received coming in was don't be afraid. This applies to anything within your academic career, but don't be afraid to make connections with your peers and your professors. The people you meet along the way will be able to help you and can be your friend.
[TT] That is such great advice! Would you mind sharing what your post-grad plans are?
[BB] I want to get into a Clinical Psychology graduate program. In the future, I would love to practice as a Clinical Psychologist and possibly become a professor at the university level. At this time, I'm in the process of applying for the Clinical Psychology program at Roosevelt University and UIC, I'm also in the process of applying to Northwestern Medicine's Behavioral Science program.
[TT] Wow! Ben you have such a bright future ahead! One last question, what are some of your hobbies or things you enjoy doing in your free time?
[BB] One of my favorite activities is getting lost wherever I am. Recently, I find myself roaming around Chicago when I have free time just to explore and drink coffee.
—
We thank Ben for sitting and talking with us today! Ben we are wishing you the absolute best on your future endeavors! We are certain you will be successful at any institution you attend!