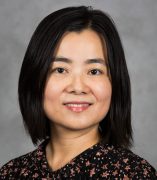 Julie Jing Chen, PhD
Senior Lecturer
General Program
Contact
Building & Room:
1056B BSB
Address:
1007 W Harrison Street
Office Phone:
Email:
About
Julie Chen received her PhD degree in Social-Personality psychology from the University of Illinois at Urbana-Champaign in 2007. She was trained as a social-cultural psychologist with a broad interest in cultural and cross-cultural psychology. Specifically, she is interested in how social structures and culturally shaped implicit beliefs may influence human cognition and behavior. She found individuals were biased by their experience with professional mobility and perception of it in their society when it came to evaluating and predicting other individuals' future performances.
Julie is also very interested in understanding the mentality and psychological wellbeing of immigrants and ethnic minorities. In one study she used a narrative approach to examine how bi-cultural individuals' subjective interpretation of their experiences with their native culture and host culture played a significant role in affecting their current mental health in an acculturation process. Physiological measurements including heart-rate monitor and skin conductance were used in this study.
She is also interested in understanding how migrants navigate through cultural barriers with different coping mechanisms.
Education
PhD, University of Illinois at Urbana-Champaign, 2007
MA, University of Illinois at Urbana-Champaign, 2004
BA, Beijing University, China, 2001