4th Year Applied Psychology Student, Hanna Ghalyoun
This month's student spotlight is 4th year Applied Psychology Major, Hanna Ghalyoun. Hanna will be graduating at the end of this semester, and we wanted to catch up with her before she moves on to her next big journey!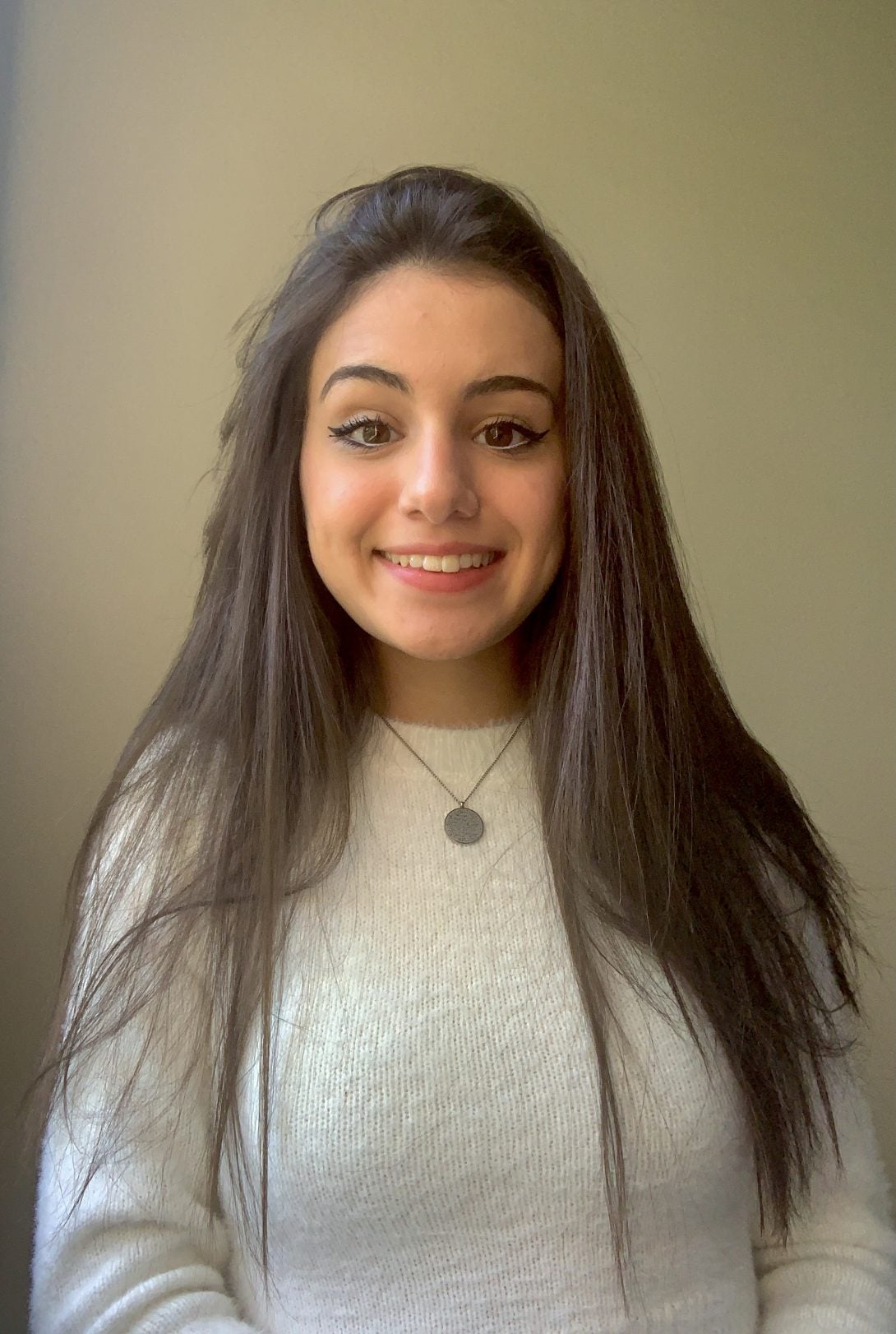 We are so excited to sit down with Hanna Ghalyoun and dive deep into her experiences as an undergraduate student in the Applied Psch program.
[TT] Hanna, thank you so much for joining us today to be highlighted as our Student of the Month! You were recommended by Ed Sargis and we are so delighted to have you!
[HG] Thank you so much for having me.
[TT] So, let's jump right in! What led you to select UIC for your undergraduate institution?
[HG] Well, UIC is very close to home, so I could stay home and be with my mom. It also was financially a good option, and this city is wonderful it's filled with really diverse people and I knew I was going to come into an institution, where I wasn't going to feel lonely.
[TT] What attracted you to Psychology?
[HG] I think a lot of it is rooted within my own experiences with mental health, especially within my community, and I think my biggest interest was coming into the psychology field with intentions to make an impact on my own community and for communities of color experiencing poor mental health or just mental health barriers.
[TT] So, what has your experience been like on campus and here in the Psychology Department?
[HG] For starters, I was a pandemic student for the last two years, so I struggled a bit with finding a community, making friends, and just having a college experience on campus. Since coming to campus more, I have really enjoyed it. While BSB isn't the prettiest building, the people I've met here are wonderful. I have never felt this supported from a department. In high school, I struggled a lot with my GPA, academics, clubs, and finding mentors and people who would support my dreams.  In High School, my counselor at the time told me UIC would be a reach school for me, but my first semester freshman year went really well. I think that's because I was taking classes I was interested in and passionate about.
Coming to UIC was a huge shift for me. My current mentor, Dr. Erin Berenz is wonderful. The psychology advising team are wonderful, approachable, and always answer my questions whenever I need help. I had such a fear of asking for help in high school, but since coming to UIC, the psychology department has changed that for me and I've never felt more supported.
[TT] That is so amazing to hear! I am sure the faculty will be pleased to know the culture in the department is positively impacting your academic and social journey. Now, would you mind sharing a bit about your choice for the psychology major? Did you Applied Psychology immediately or General?
[HG] I started off as a General Psychology major freshman year. During my second semester of freshman year, I discovered the United Support Network (USN) ran by several students who are in the Applied program and a few graduate students. Well, I came across the Crisis Counseling Course just before USN was officially formed and I connected with the President of the Crisis Counseling hotline because that was something I was really interested in getting experience with. I had such a way to go because the courses were higher level for juniors and seniors. When talking with the President, she encouraged me to switch to the Applied track because I would be given the opportunity to complete an internship, which I thought was really exciting. So, I switched over that same semester and I talked with Dr. Rob Ballantyne who teaches the Crisis Counseling course and works in the counseling center. He has had a big impact on me and supported me a lot throughout my undergraduate career.
During the first semester of my sophomore year, I took all the required courses for the Crisis Counseling course beforehand, so I could get in the class. Then, the pandemic had started and everything switched over to USN and the student support groups were formed and created a community of students on campus. I was able to do the internship class and Dr. Kathryn Engel has also been really supportive. She was on top of everything and made sure all of us were able to get what we wanted out of the class.
[TT] What advice would you give to an undergraduate student considering the Applied track?
[HG] Not a lot of students are able to have that experience and undergrad because you know they don't know where to look they don't know how to even start the process, and then they do get that professional experience and it sets them up really well for post-Grad. I would say, don't be scared of the 385 class. I know it's like daunting. It's like a six credit course, you have to do, eight hours a week, minimum for your internship. You also have to do this huge lit review for the class and it seems really daunting, but I gained some of the most valuable skills, I could have gained in undergrad from that. I learned professionalism, APA style writing, and that there's more to psychology than what is presented in undergrad. There are a lot of things people feel confused about like, where do I go after I have my undergrad psychology degree? But then you have this internship and you realize that there's so much you can do with it, so  don't be scared. It's a little scary course, but it goes just fine when you're in it.
[TT] Would you mind sharing your research experience?
[HG] Yes! I started my research fall semester of my sophomore year with the Chicago Alcohol and Trauma Lab. I have been working with graduate students in the lab of Dr. Erin Berenz now for a while and I absolutely love it. I have helped out with a lot of different projects in the lab, but I think the most valuable experience I have received now is being the principal investigator of my own study and curate my own project. While it's been such a scary experience because I have to do all the IRB forms and it's been a project that's been two years in the make, it's been a really scary experience, but it has also been fulfilling and wonderful to have Dr. Berenz with me every step of the way. I could not have done any of this without her and her belief that I can succeed.
[TT] Could you expand a bit on how you were connected with the Chicago Alcohol and Trauma Lab?
[HG] Yes! The Psychology Undergraduate Research Readiness Program (PURR). I took courses that really interested me and one of my professors, Dr. Chris Baker sent out an announcement about the PURR Program and how it would partner undergrad students with a grad students and we could learn more about research and the graduate admissions process. The program sounded cool, so I applied and I got in. I was paired with Elizabeth "Liz" Boots who was a Clinical Neuropsychology student in the grad program at the time. She was extremely helpful and thorough with providing me with resources and tools I would need if I were to one day apply into a PhD program. She also helped get me in a research lab and encouraged me to reach out to faculty in the department to get to know them better and Dr. Berenz research best fit my interest. Liz was such an important resource for me and was mentor for an additional two or three semester longer than what was expected.
[TT] I already asked you what advice would you give students interested in research, but what advice would you give an incoming freshman or even a high school student starting college?
[HG] Don't be scared to ask your professor for help. They are there to support you on contrary to what you are told by your high school teachers and counselors. College is completely different from high school. They are quick at responding and they want their students to succeed. Don't worry that you will be annoying, just ask for help. Even if they don't respond immediately, they will respond 99.9% of the time and always be kind. They will give you resources you need.
[TT] What are your plans after finishing your degree this spring?
[HG] So, I have actually been accepted into the PhD in Clinical Psychology program here at UIC! I will start in August. I will say I was a little nervous applying. I know gap years are really important to build experience, but this is something I have always wanted to do, so I'm diving straight in. This department has been incredibly supportive to me throughout this entire process, so I feel like it's a wonderful fit and I feel comfortable and supported. I think that's all someone could really hope for.
[TT] That is extremely exciting, Hanna! Is there anything in particular you are most excited about studying or researching in the PhD program?
[HG] I am very interested in the influences of race and ethnicity on health outcomes, so I look forward to working with Dr. Robin Mermelstein. Her work primarily revolves around tobacco, nicotine, and cannabis with a young adult population, so I'll be able to look at how being a minority or being a person of color in a marginalized group is impacting outcomes with substance use and mental health.
[TT] For our last question, what are some of your hobbies or things you enjoy doing in your free time?
[HG} I'm a bit of a big nerd. I love cartoons, watching anime, and reading manga. If I had to choose an anime I love it would have to be Hunter x Hunter.
—
We thank Hanna for sitting and talking with us today! Hanna's future is so bright and we can't wait to learn more about her journey here in the UIC Department of Psychology as she embarks on her journey to PhD beginning fall 2022. If you know Hanna, be sure to share your congratulations!
Modified on April 11, 2022