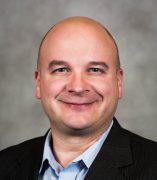 Edward George Sargis, PhD
Senior Lecturer
General Program
Contact
Building & Room:
BSB 1018C
Address:
1007 W Harrison Street
Office Phone:
Email:
About
I graduated with my BS from Bradley University in 1997 with a double-major in Psychology and Philosophy. I later graduated from UIC's Department of Psychology in 2004 with my PhD in Social Psychology and a minor in Statistics. My research interests include best practices for research methodology, in particular how the data collection via the Internet affects data quality. I have also done research in the areas of the social psychology of morality and small group decision-making.
I have been a Lecturer in UIC's Psychology department since 2004. I most frequently teach courses in research methods and statistics, as well as courses in social psychology. In addition to teaching, I have a number of administrative roles in the department that include arranging our department's teaching assistantships and tracking the usage of space in the department.