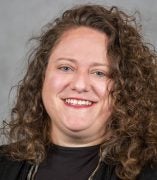 Amanda L. Roy, PhD
Associate Professor, Director of Graduate Studies
Community and Applied Developmental Psychology, Program Chair
Contact
Building & Room:
1050C BSB
Address:
1007 W Harrison Street
Office Phone:
Email:
CV Download:
Related Sites:
Dr. Roy will be reviewing applications for doctoral students to begin Fall 2024.
About
I received my PhD in Community Psychology with emphases in Developmental Psychology and Quantitative Methods from New York University in 2010. I am currently an Assistant Professor in the Community and Prevention Research division of UIC's Psychology Department.
My research focuses on two lines of inquiry. The first of these examines neighborhood and environmental factors and their relationship to individual functioning. In past work I have explored how exposure to neighborhood characteristics such as poverty, racial/ethnic composition, crime, and organizational resources (e.g., health care services) influence the health and well-being of adults and children. Recently I have begun to consider the relationship between environmental noise exposure, adolescent self-regulation, and cognitive functioning. I am also interested in innovative approaches to the measurement of environmental factors. To this end, I am launching a study using GPS enabled cell-phones to measure where adolescents spend their time; subsequent exposure to risky environmental characteristics such as crime, abandoned buildings, and alcohol outlets, and relationships with mood and risk-taking behavior.
My second area of work uses different conceptualizations of income and examines its effects on individuals. For example, past work has examined income loss post-Recession, the experience of relative versus absolute income, and income trajectories or variability in income over time and how these different experiences shape individual health and well-being.