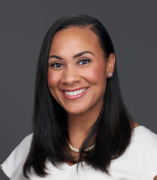 Jasmin Searcy-Pate, PhD
Associate Director of OAPS, Clinical Assistant Professor
Office of Applied Psychological Services
Contact
Building & Room:
3018B BSB
Address:
1007 W Harrison Street
Office Phone:
Email:
About
"Challenging Minds and Changing Lives" is the central mission of Dr. Searcy-Pate. She earned both of her graduate degrees (Master's Degree and Doctor of Philosophy) in Clinical Psychology from Johns Hopkins University (Baltimore, Maryland) and Jackson State University (Jackson, MS). In addition, Dr. Searcy-Pate completed specialized training in child/pediatric psychology at Children's Hospitals and Clinics of Minnesota (Minneapolis, Minnesota), and the Department of Defense (Sam Fort Houston, Texas) via her doctoral internship, and post-doctoral fellowship program(s). Dr. Searcy-Pate has continued to provide psychology services (including the use of evidenced-based interventions) for 12+ years in a variety of settings, including pediatric hospitals, military settings, and community-based health clinics. Her interests and expertise include general child/adolescent mental health (e.g., ADHD), pediatric and adult health complications (e.g., HIV, diabetes mellitus), and stress reduction. The focus of her practice is the interactions between the mind and the body and the powerful ways in which biological, psychological and social factors (including the role of adverse childhood experiences (ACES) affect physical health and well-being.
Dr. Searcy-Pate has published journal articles across a range of clinical topics, including post-traumatic stress disorder (PTSD), and pediatric sickle cell disease. She also has given countless mental health seminars to various audiences, including community and social groups, and various organizations such as the Juvenile Diabetes Research Foundation and American Psychological Association. In particular, Dr. Searcy-Pate was named a fellow of the 2021 IMPACT Leadership Development Program with the Chicago Urban League (and University of Chicago Booth School of Business). Prior to joining UIC as the Associate Director of the Office of Applied Psychological Services (OAPS), she served as Clinical Professor (and Course Developer) at Northwestern University's (via the Family Institute) and Pediatric Psychologist at La Rabida Children's Hospital (Chicago, IL) among others. Dr. Searcy-Pate's ultimate research and clinical interests include health behavior change (i.e., predictors of success following diagnosis of health complications) and racial/ethnic disparities in health and healthcare. In her current role as OAPS Associate Director (and Clinical Assistant Professor), she teaches graduate-level courses in clinical skills and theory. Dr. Searcy-Pate further assists the OAPS director in providing oversight and leadership of the clinic and provides supervision to all clinical psychology graduate students during their internal practicum at OAPS. When she is not engaging in her work, she enjoys opportunities for civic engagement, spending time with her energetic family, and running/biking.
Dr. Searcy-Pate provides supervision and mentorship to all students in the program. She does not have an ongoing research lab; thus, she does not accept graduate students into the program.
Licensures and Certifications
Licensed Clinical Psychologist IL#071.009593
Professional Memberships
International Association for the Study of Pain (IASP)
Association for Behavioral and Cognitive Therapies
American Psychological Association (APA)
Division 53: Clinical Child & Adolescent Psychology
Division 54: Pediatric Psychology