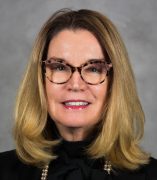 Kathryn L. Engel
Senior Lecturer
Applied Program
Contact
Building & Room:
1022B BSB
Address:
1007 W Harrison Street
Office Phone Voice:
Email:
About
With over 30 years at UIC Kathryn has a passion and commitment to the urban, diverse students she serves.   She began her career as an instructor teaching and supervising clinical graduate students in therapy.  She was then promoted to the Associate Director and Interim Director of the Office of Applied Psychological Services where most of her teaching was clinical supervision.  During this time she connected services with the larger Chicagoland community.   Kathryn currently serves as the Director of Internships in Applied Psychology where for 15 years she has grown the connections of the APP program to over 250 community internship partners.
Community supervisors regard UIC Applied Psychology students as among the best and most desirable interns in part because of the high level of training and community service they provide but also because of the unique UIC APP focus on delivering high quality applied program evaluation projects to the community.   Community partners are in all areas of applied psychology including domestic violence, sexual assault, forensic services, unaccompanied minors, autism, after school programs, forensic agencies, human resources, employment recruiters, mental health agencies, hospitals and community advocacy programs.  Kathryn's current research interests are delivering mixed methods program evaluation to the community internship partners.  Students learn how to get all stakeholders involved in evaluations providing this value-added service to their local community internship partners.  These data rich opportunities result in Kathryn supervising multiple Honors College Capstone projects every year.  She also serves as a Faculty Fellow in the Honors College.
When Kathryn was teaching larger undergraduate courses she was awarded the Silver Circle twice and nominated several times.  She was appointed to the Presidents Speakers Group and spent ten years representing UIC at many community and media venues.   Kathryn has served on larger university communities participating in the Intergroup Dialogue Initiative, the Access and Equity Working Group and the Provost's Committee on Diversity.   She has a passion for cultural training and developed a module 20 years ago that is used in the current interviewing courses in the department where students take advantage of the natural diversity within each classroom at UIC to become more culturally sensitive in their work.
Much of Kathryn's community service work intersects with her work at UIC.  She has served on the board directors of an agency for sexually abused girls, provides workshops throughout the community on couples's communication and serves on the Paris Committee of the Chicago Sister Cities International (CSCI) Organization.  For the past 6 years she has co-chaired the Social Service Exchanges between the leaders of the Social Services in Paris and Chicago.   This initiative resulted in Kathryn being invited to bring UIC students on internships into the highest levels of the social services in Paris.   This is the first time any students from a foreign country have interned in social service agencies of Paris.  The Study Abroad course was inaugurated during the summer of 2015 and will continue providing students unparalleled access to internships working in agencies addressing domestic violence, homelessness and urban families in crisis.
Kathryn has double majors in Psychology and Music with Highest Honors from the University of Oregon for her undergraduate degree. She did her graduate work at UIUC with a masters in Clinical Psychology and all of the doctoral coursework including double minors in Quantitative Psychology and Law.