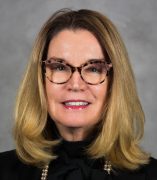 Kathryn L. Engel
Senior Lecturer
Applied Program
Contact
Building & Room:
1056A BSB
Address:
1007 W Harrison Street
Office Phone:
Email:
About
With over 37 years at UIC Kathryn has a passion and commitment to the urban, diverse students and university programs that she serves.   She began her career as an instructor teaching and supervising clinical graduate students in therapy.  She was then promoted to the Associate Director and Interim Director of the Office of Applied Psychological Services where most of her teaching was clinical supervision.  During this time, she connected services with the larger Chicagoland community.   Kathryn currently serves as the Director of Internships in Applied Psychology where for 20 years she has grown the connections of the APP program to over 300 community internship partners.
Community supervisors regard UIC Applied Psychology students as among the best and most desirable interns in part because of the high level of training and community service they provide but also because of the unique UIC APP focus on delivering high quality literature reviews and applied program evaluation projects to the community.   Community partners are in all areas of applied psychology including domestic violence, sexual assault, forensic services, unaccompanied minors, autism, after school programs, forensic agencies, human resources, employment recruiters, mental health agencies, hospitals and community advocacy programs.  Kathryn's current research interests are delivering mixed methods program evaluation to the community internship partners.  Students learn how to get all stakeholders involved in evaluations that truly serve the interests of the community providing this value-added service to their local community internship partners.  These data rich opportunities result in Kathryn supervising multiple Honors College Capstone projects every year.  She also serves as a Faculty Fellow in the Honors College.  She is also a Faculty in Residence, living with and giving back to the UIC residential community.
Kathryn has been awarded the Silver Circle three times (the award voted on by graduating seniors for the best professors) and nominated several times, and awarded the UIC HOPE from resident students.  She was appointed to the University of Illinois Presidents Speakers Group and spent ten years representing UIC at many community and media venues.   Kathryn has served on larger university communities participating in the Intergroup Dialogue Initiative, the Access and Equity Working Group, the Provost's Committee on Diversity and UIC's Culture of Respect Engagement (CORE) Team.   She has a passion for cultural training and developed a module 20 years ago that is used in the current interviewing courses in the department where students take advantage of the natural diversity within each classroom at UIC to become more culturally sensitive in their work.
Much of Kathryn's community service work intersects with her work at UIC.  She has served on the board directors of an agency for sexually abused girls, provides workshops throughout the community on couples' communication and serves on the Paris Committee of the Chicago Sister Cities International (CSCI) Organization.  For the past 15 years she has co-chaired the Social Service Exchanges between the leaders of the Social Services in Paris and ChicagoThis initiative resulted in Kathryn being invited to bring UIC students on internships into the highest levels of the social services in Paris.  The Study Abroad course was inaugurated during the summer of 2015 and continues providing students unparalleled access to internships working in agencies addressing mental health, homelessness, domestic violence, gender-based violence, urban families in crisis, children's services and the integration of security services with relocation of homeless populations.
Kathryn has served on the Steering Committee of the Chicago Sister Cities International Social Services exchanges, this includes working with the cities of Birmingham, Casablanca, Durban, Hamburg, Kiev, Osaka, Paris and Shanghai.  She has been the Co-Chair of the Chicago sister Cities Social Services Steering Committee for three years and is a member of the Council of Chairs. .   In 2017, Kathryn was instrumental in the planning and execution of a two-day social services conference that brought together social services delegations from all seven of CSCI's Social Services Committees in Chicago to explore topics around the theme of "Diverse International Approaches to the Prevention of Violence & Abuse." Another conference is planned for 2021 jointly by UIC and CSC bringing together eight cities to address pandemic innovations to address mental health, ptsd in essential works, children and families, gender-based violence and the prevention of violence and abuse. 
During the pandemic Kathryn created an informal COIL course working with the French social services during the summer of 2019.  Because of the success of the course, Kathryn wrote a grant for it to become UIC's first Global Virtual Exchange Course (G-VEC). Kathryn, as PI, was awarded the FACE Foundation's COVID 19 Transitioning to Virtual Exchange grant for the summer of 2020 in collaboration with two French University partners, Iae Gustave Eiffel School of Management (University of Paris Est-Créteil, UPEC) and Ecole Pratique de Service Social, EPSS (CY Cergy Paris Université). UIC, UPEC and CY Cergy are all part of the MICEFA exchange, adding another level of sustainability and potential for longer term exchanges of students between UIC and EPEC and EPSS.  To strengthen the sustainability of these exchanges, the same three Professors will work together once again.  Kathryn as the PI was awarded  additional grant from the French Embassy working with NAFSA and the US State Department. The Transatlantique Mobility Program grant was written as a longer duration sustainable G-VEC course to include funding for student and faculty travel on a short-term study abroad, embedded within the G-VEC course and UIC will once again partner with UPEC and EPSS.  Students from Psychology, International Management and Social Work work in teams to create cutting edge solutions to social problems. The student projects have been featured three times on international webinars by Coventry University, UK providing a worldwide audience for addressing social service problems.
Kathryn has dual degrees in Psychology and Music with Highest Honors from the University of Oregon for her undergraduate degree with highest honors.  She did her graduate work at UIUC with a master's in clinical psychology and completed all of the doctoral coursework for clinical Psychology including double minors in Quantitative Psychology and Law and a doctoral APA approved clinical psychology internship at Michael Reese Hospital of the University of Chicago.