Mujeres Latinas en Acción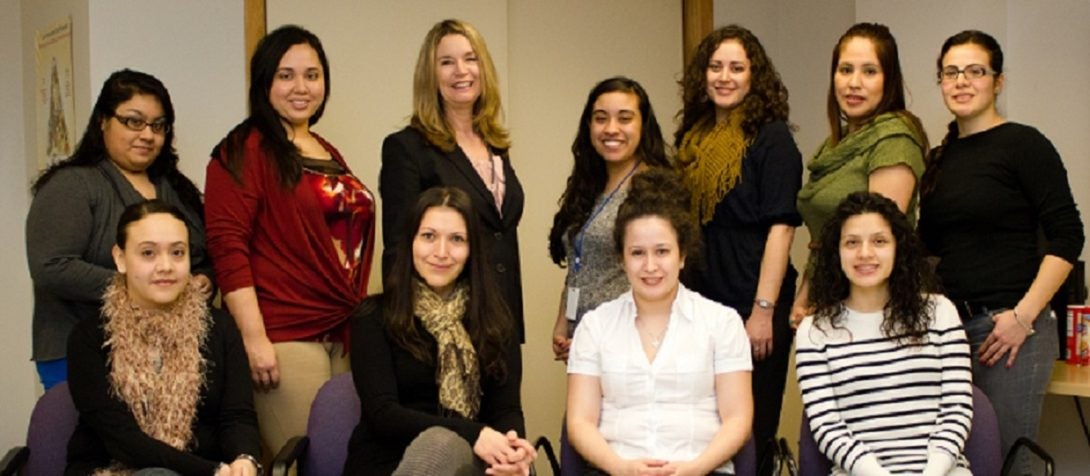 One of our agency partners, Mujeres Latinas en Acción, has become the longest-tanding and one of the most highly respected Latina organization in the country, serving to empower Latinas through services which reflect their values and culture, and advocating on the issues that make a difference in their lives. Kathryn Engel is pictured with former interns from the Applied Psychology program who are now employees:
Daisy Soto – May 2010
Yurianna Reyes – Dec 2009
Kathryn Engel
Mayra Quiroa – May 2010
Maria Leon – Dec 2006
Martha Ramirez – Dec 2010
Alma C. Vargas – May 2011
Bottom Row left to right:
Erika Aguirre – Dec 2011
Estela Melgoza – 2000
Roxana Franco – May 2007
Jennifer Hernandez – May 2012
Not pictured are Brenda Moreno, Roxanna Ortega and past staff Angelina Rodriguez and Arizbel Preciado. Not only are several of our students staff at the site but every semester Mujures helps train our interns in after school programs for youth and teens; parent support programs; counseling, crisis intervention, and court advocacy for survivors of domestic violence and sexual assault; court supervised visitation for non-custodial parents; referrals to medical and financial support resources for women in need; and leadership development programs.